Breeze moving across skin on a hot day feels good, especially in humid environments
Cool moving air breaks up moisture saturated boundary layer surrounding the body - accelerating evaporation to produce a cooling effect
Small high-power fans create pressure differential but the turbulent high velocity air jet dissipates very quickly
In contrast, down column of air from LSHV fan reaches floor, air turns in horizontal direction away from column in all directions – Creating a "horizontal floor jet"
26 high speed fans required to move the same amount of air as only one LSHV 24 ft 1.5kW fan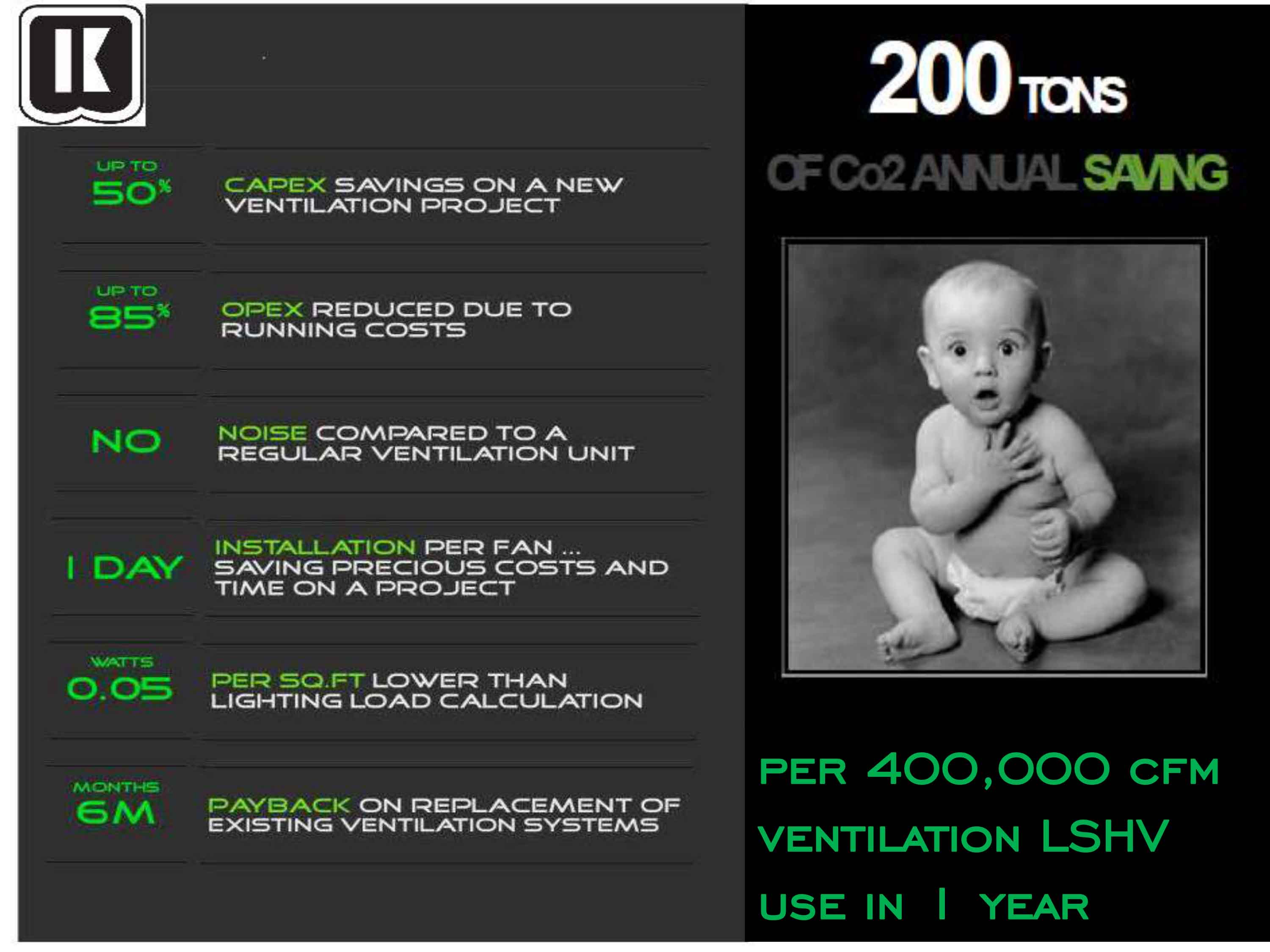 Cooling Breezes: Non disruptive breeze provides natural cooling effect for occupants
Supplementing existing Air Conditioner: Maximize performance and generate significant energy savings
Heat Destratification: Maximize performance and generate significant energy savings
Improved Indoor Air Quality (IAQ): Better working environment for occupants resulting in happy work place
Cooling Breezes - Occupational Safety & Health Administration (OSHA) standards indicate temperatures of 38°C and above are dangerous for workers, and air temperatures that exceed 35°C significantly increase the heat load on the body. When temperature and humidity levels rise, the body's natural ability to cool itself decreases. While air movement does not lower the actual temperature of a space, the airflow created by an LSHV fan can make people feel up to 5°C cooler
LSHV fans have power to move air throughout the entire space, from ceiling to floor and wall to wall. They can circulate airflow up and over obstructions such as machinery and stacked product to ensure conditions are consistent throughout.
Slow and massive air movement provides natural, evaporative cooling effect of up to 5°C or more by creating pleasing, non-disruptive breeze in your facility so occupants remain cool, comfortable and more productive in hot, humid days.
Useful in facilities where air conditioning is not feasible/possible
One LSHV fan can replace up to 48 or more high-speed floor or wall fans (often with 1/2 HP motors) and reduce energy usage substantially
Near-silent operation makes for a quieter facility environment helping workers concentrate on their work
Eliminate any hot or cold zones in your facility, and maintain a consistent temperature all around, in all seasons.
When used properly in conjunction with conventional HVAC systems, LSHV fans are a high value, cost effective solution to better air movement and improved overall environmental control.
Allows increased thermostat setting by several degrees higher for an equivalent cooling effect, thereby reduce HVAC energy costs by up to 30% or more
Minimize the volume of air, and corresponding loss of cool air, that needs to be replaced for adequate ventilation
With new construction, LSHV fans substantially reduce cost of ducting, tonnage, and maintenance for air conditioning in large facilities
Few scenarios where HVAC isn't viable or cannot be implemented
In un-insulated buildings and those with large open doors (think dock/shipping doors, and/or open-sides)
Where operations produce smoke or fumes requiring continuous ventilation
In large, sparsely populated warehouses where A/C would be wasteful
Where the dehydrating effect of A/C is undesirable
Where the installation of A/C would disrupt operations
Anywhere the costs of A/C are prohibitive or irrecoverable
For even air distribution in buildings with conventional evaporative coolers
When heated, air becomes lighter and goes up; thereby stratifying heat layers, from lower to higher temperatures, in a facility. So, when the air at the roof level is hot, workers at the floor level are not getting adequate warmth. To compensate, thermostat is set higher, the heater runs too often, and a lot of energy is wasted.
LSHV fans provide better heating comfort by mixing hot air at roof level with cold air down at floor level much more effectively to maintain a uniform temperature throughout the facility
Reduce up to 30% energy costs (or much more) by reducing heater cycle time
Preventing heat loss through facility roofs by not allowing heat to infiltrate the ceiling/roof material and escape
Airflow pattern of LSHV fans ensures air reaches all corners of an industrial space, maintaining consistent conditions throughout and eliminating condensation and stagnant areas where product integrity is a concern
Exceedingly effective at mixing incoming fresh air with indoor stale air to maintain a refreshing and healthier facility environment by greatly improving ventilation and indoor air quality (IAQ)
Cooling & pleasant effect for the employees working in a space
Better working environment results in higher productivity, happy working place, reduced absenteeism
STOP WASTING ENERGY AND PRODUCTIVITY
A Healthy Decision. with Bottom-Line Impact
Practical and affordable solution to improving air movement, reducing heat stress, and creating overall better environmental control
Valuable supplement to help facility designers and engineers control energy costs and improve employee comfort and productivity
Creating a more comfortable, healthier workplace clearly signals company's willingness to invest in employees and seriousness about their safety
A DIRECT & SIGNIFICANT IMPACT ON ORGANIZATION'S
Warehouse and distribution centers - where goods are stored and/or moved around, delivered and shipped
Industrial and manufacturing facilities - where products are made by people regardless of industry
Agricultural operations - Dairy, farm, feed, food related production / processing
Automotive facilities - Auto dealers, repair, and service
Commercial/Consumer spaces - Retail Stores, Malls, Hypermarts, Commercial Complexes, Churches, Mosques, Temples, Sports Complexes, Gyms, etc
Public Places - Airports, Railway Stations, Metro Stations, Bus Stations, Schools, Libraries, Restaurants, Theatres, Auditoriums, etc
Cool Machinery
Creates a constant floor to ceiling temperature with low speed high volume air changes
Provides comprehensive air coverage and drastically improves areas with hot, cold, stale and stagnant air
Promotes cost savings by leveraging HVAC systems, enhancing ventilation systems and reducing the overall energy costs within a large space
Dilutes concentrated air
Dry wet floors and control moisture, mould, bacteria and condensation
Helps keep your most valuable asset working and comfortable – your employees, visitors, and customers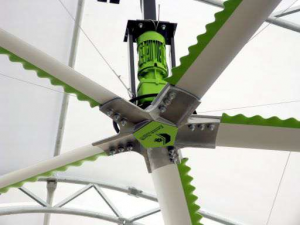 SPECIFICATIONS:
Fans range from 3 m to 7.3 m (10 ft to 24 ft) dia
Operates on 0.64 to 1.5 kW (1 HP to 2 HP)
Much more air due to higher blade angle of around 21°
Very very low noise
VFD provides soft start and variable speed operation
Eliminates "span –wise pumping" – primary cause for efficiency loss in all rotating systems
Eliminates "tip stalling" – primary cause of blade noise and damaging vibration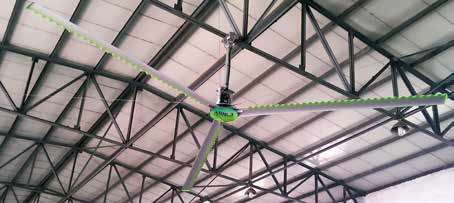 SPECIFICATIONS:
Fans range from 4.7 m & 7.1 m (16 ft & 23 ft) dia
Operates on 0.75 kW (1 HP)
Much more air due to higher blade angle of around 21°
Very very low noise
VFD provides soft start and variable speed operation
Eliminates "span –wise pumping" – primary cause for efficiency loss in all rotating systems
Eliminates "tip stalling" – primary cause of blade noise and damaging vibration